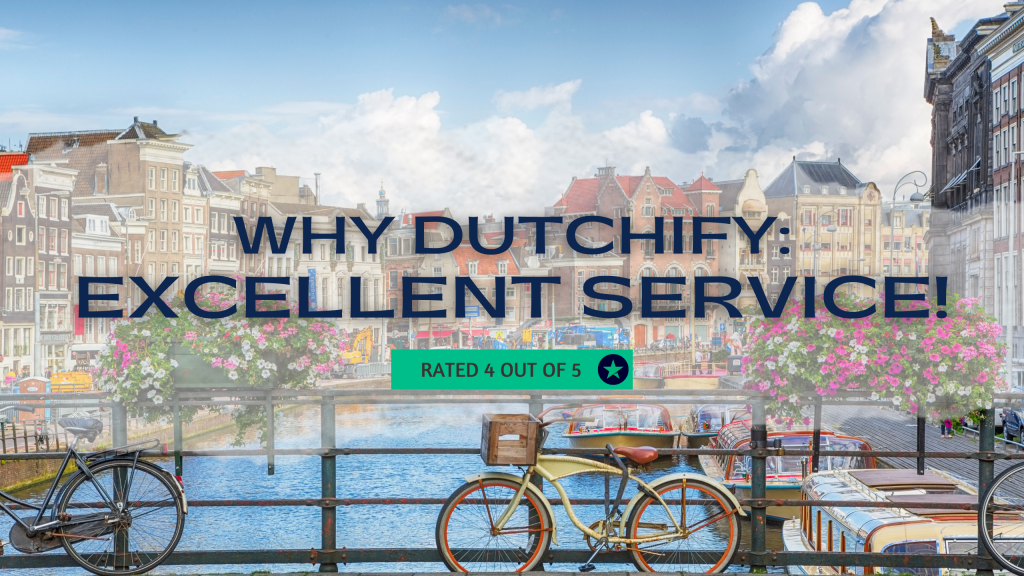 Dutchify reviews are pretty great, there is no denying it. And reading reviews online is a great way to find out more about a company you want to work with. But what is dutchify!? What do we do and how do we work? I'll tell you all about it and give you five reasons why you should choose dutchify for your relocation.
Dutchify Reviews: who writes them?
Dutchify reviews get posted by clients who we helped to complete their relocation. And we don't have hundreds of reviews yet because we only started our company in 2017. Dutchify has helped almost 250 clients move to the Netherlands. Our review score shows that our clients are happy with the relocation journey. If we look at our Trustpilot page dutchify scores an average of four out of five stars. And Google tells the same story, with an average of four out of five stars. So do you want a normal relocation? Or do you want to get dutchified?
How does it feel to get dutchified?
Are you searching for dutchify reviews because you want to get help for your relocation? If you are still reading this article, you probably are. So here are the five best reasons to choose dutchify over others. And this is what it feels like to get dutchified:
Using a Personal Relocation Service vs a Corporate Relocation Service
At dutchify we put a lot of focus on you as a person. We want your relocation journey to feel warm & personal. Why? Because you'll move to a new country & you are going to live there for a long time. That's why we give you one personal agent to work with you during your relocation. And you can contact your agent anytime on our platform or through Whatsapp. Our agents don't bite, they build a personal connection with you. To make you feel comfortable and build a level of trust during your relocation. We don't just move you, we make you feel at home in the Netherlands.(line break)If you compare this to competitor services you'll see a completely different approach. Companies like dutchify put the emphasis on the total number of relocations. And some relocation service companies don't even want to work with you as a person. You need to convince your employer to sign a contract with the service company before they can help you. And after you do that, you get a service experience based on sending emails back and forth. A limited number of viewings & a team of twenty people or more helping you from time to time. That's not a great match for the (and your family) most important move of your life.
The benefit of getting Unlimited Service
This connects to the previous benefit we highlighted in this article. Choosing dutchify will give you unlimited service until you're moved in and happy. Unlimited viewings and help during the house hunting. But also unlimited help with your immigration and all the other services that dutchify offers. With dutchify you don't just get service, you get the job done.(line break) Comparing that to competitor offers, you'll see some ** in your proposal. Viewings are limited to two rounds, settling in has a limited list of services. And how do we know? Well at dutchify we do our homework 😉
The perks of getting off the market deals
Let's face it, if you pay for a service to help you, you want that service to give you results you cannot get yourself. We hear you! And that's exactly what you can expect if you work with dutchify. We work nationwide and have gathered a large number of partners. These partners give us access to deals and information that's not available on websites like Pararius or Funda. Working with dutchify allows you to get results that other companies just cannot give you.
Enjoying a service that takes work out of your hands
Dutchify embraces innovation and optimization like no other in our industry. We use platform technology and whatsapp for our daily communication with our clients. Using the dutchify platform allows you to get a feeling of being in control. Whilst you don't have to send an email everyday. Or calling the office to get an update. This gives our clients confidence and allows you to have full control of your moving process. Whilst you only have to check in once a day or week. You've got other things to worry about. So let us take care of the rest.
Choosing the best relocation service in the Netherlands
Did you know that dutchify is the only company offering relocation services (for the Netherlands) that has reviews on websites like Trustpilot and Yelp? Last we checked we couldn't find pages for any of our competitors. We choose these review platforms to get verified review from actual human beings. Why? Because it's important to show the real story behind our company. We believe in transparant communication and services. And our reviews clearly show this.
Are you now feeling confident in your choice to work with dutchify? Do you wanna get dutchified too after reading this article? If so that's great! So what's next step? Go to our website or click this link to book your free consultation with dutchify. Getting you one step closer to being dutchified!