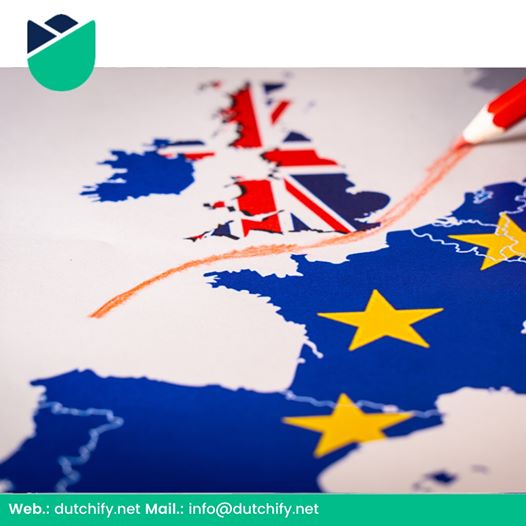 Relocating to the Netherlands
Moving from the UK soon? To live in the Netherlands long term you'll need to work or study at a university to move to the country. The withdrawal agreement will help you move from the UK until December 2020. But what happens after that? This page will help you get informed on residency, healthcare, driving, career, and a lot more.

There's a wealth of opportunity here for people from the UK, waiting for you to reach out and take it. There's also a lot of competition, and looking for housing, or a job here, might be quite different than in your home country. 

We have dedicated a whole page to get you up to speed. But you can also choose to talk to one of our assistants directly in the top of the page.
What Brexit means for you
Your status in European countries remains a topic of discussion until this day. We do know for a fact that free movement from the UK into Europe gets restricted after 2020. Starting in 2021 you will have the same rights as a non-EU national. This means that you can only move the easy way with a Schengen visa (max 90 days) when you move. This visa restricts your movement within European countries. It also limits your work opportunities a lot! 
Starting 2021 you will need to get a job under the highly skilled migrant visa to move to the Netherlands. At least, if you want to stay longer than 90 days and earn an income. You also have other visa opportunities but this is case dependent. Our tip is to plan your move before 2021 if you can. And get help with your visa application! 
Note: Visa applications with errors get rejected and fees will not get a refund. Dutchify guarantees first-time approval and manages the entire process liaising with the IND on your behalf.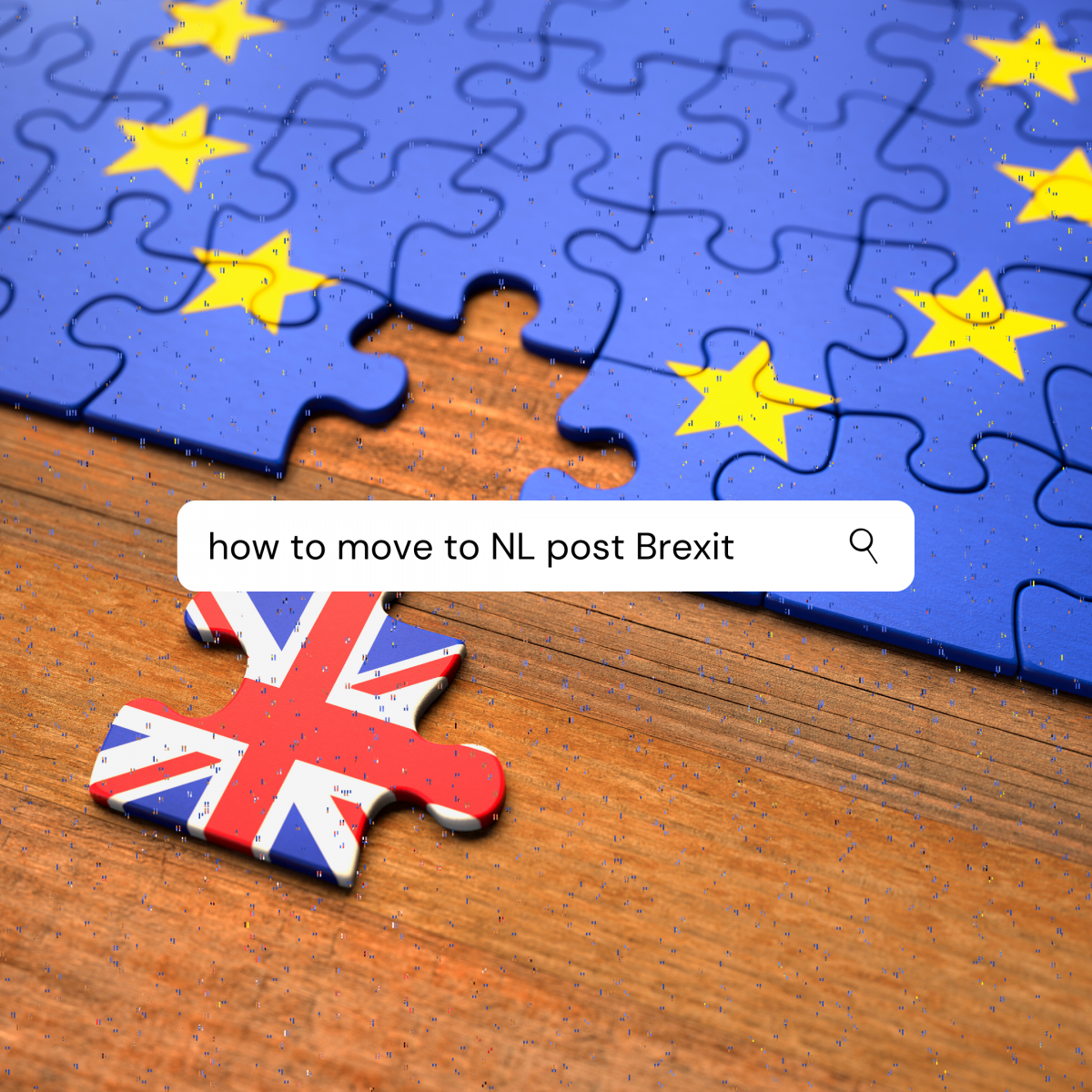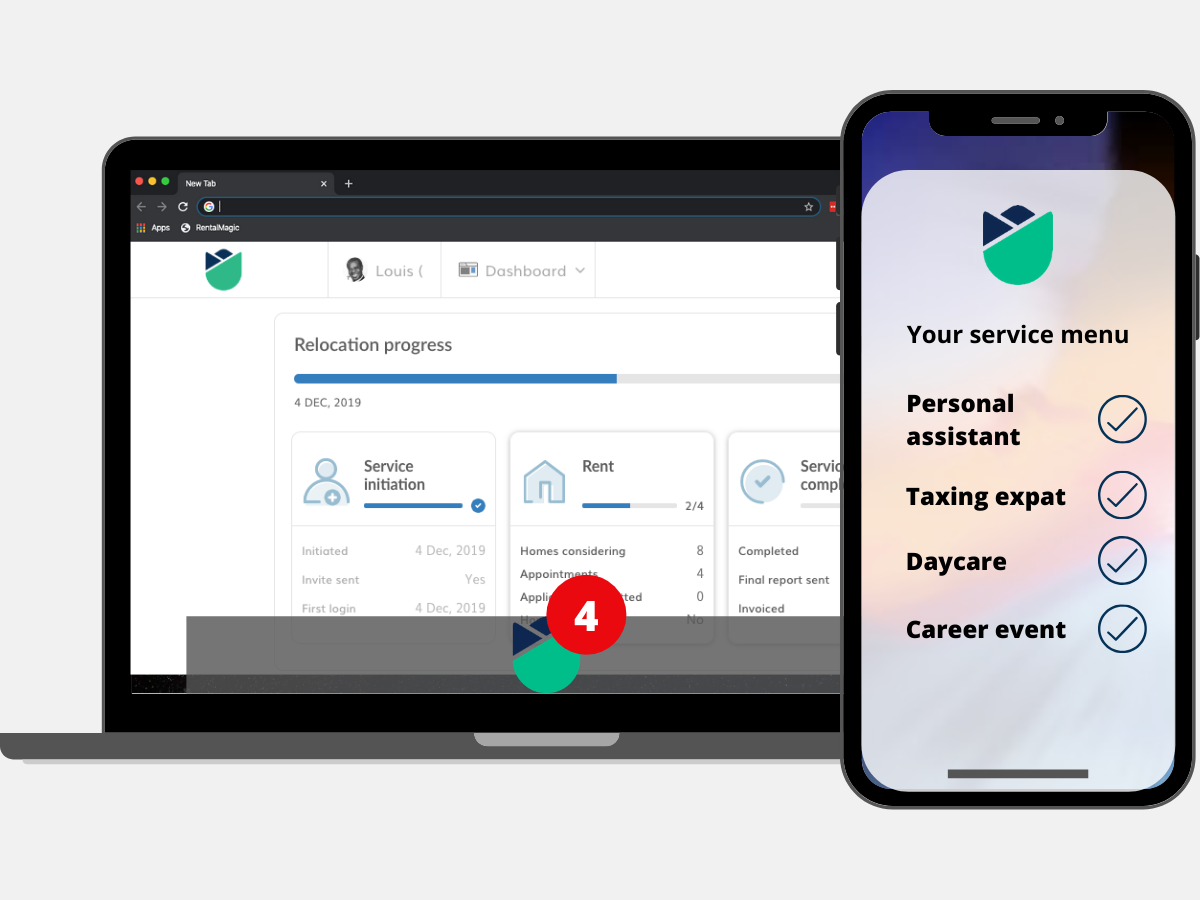 Dutch residence permit for UK citizens 
After 2020 you need sponsorship from a company to get a residence permit for the Netherlands. This can be a complex process if you don't know where to start. Alternatively, a family member needs to provide sponsorship if you are relocating. Or you could apply for a zoekjaar permit as a researcher. You apply for a Dutch residence permit with the IND (Dutch department of Immigration & Naturalisation). Applications are lodged with the IND in the Netherlands by yourself, your sponsor, or with the help of Dutchify. Alternatively, you can lodge an application from outside The Netherlands at a Dutch embassy or consulate in your country. 
If you choose to submit while in the Netherlands, the IND will place a residence endorsement sticker in your passport. This allows you to stay in the country while your application is being processed. Unfortunately, this also means you will not be eligible to work during this period. 
You can find the Application forms online or in IND
All permit applications require supporting documents. These documents can be social security & bank account information or birth certificates. Documents in a language other than English or Dutch need translation and legalized. Dutchify can help with that. Once submitted and the fee paid, the IND has up to 90 days to process, though a decision is usually reached sooner. 
Note: Don't run the risk to get your application rejected. Dutchify guarantees first-time approval and manages the entire process liaising with the IND on your behalf.
Want to talk to one of our assistants? Here is the way to do it
Reading all this information will tell you one thing. It's quite a hassle to move from the UK to the Netherlands. From the paperwork to finding your ideal home. If you don't have prior knowledge about moving from one country to the next you can get lost quite quickly.
What UK documents to bring to the Netherlands
When you come to the Netherlands, bring your UK documents from the last 5 years with you. Examples include: 
Payslips and/or annual salary statements; 

Proof you have lived in the UK (such as a utility or council tax bill, or a registration certificate from the police if you have one). 

Current insurance policies that would also be valid in the Netherlands (this depends on your insurance policy conditions); 

Income tax documents. 

Birth certificates 

Marriage documents if you have a partner 
Please make sure that all documents are recent and legalized in your municipality. A translation is not required if your documents are in English. 
Note: You will need these documents for your Visa. Yet, you need to bring more documents for housing or a career. Dutchify offers a free webinar weekly to prepare yourself. You can see our upcoming webinars here 
Our Free Webinars
Are my UK documents valid in the Netherlands? 
UK documents are valid in the Netherlands when issued before the transition period ends. The transition period will run until 31 December 2020. 
You should ask the UK government to legalize any documents issued after that date. Not legalizing documents after this date will impact the validity of birth certificates, marriage certificates, and death certificates for use in the Netherlands. You can find out where you can have UK documents legalized and how much it will cost on the UK government website. Find out more about legalizing UK documents for the Netherlands on netherlandsandyou.nl 
Registering children in the Dutch education system
When moving to the Netherlands with children it's important to look at schools. If your child is between 5 and 16 years old you apply to the compulsory school age. Your child also needs to attend school up to 18 years old if you don't pass the basic qualifications. Dutchify advises you to start your move early with children, at least 6 to 8 months in advance. 
Of course, if your child only speaks English they can be accommodated into an English speaking school, though there are plenty of bilingual schools if they are willing to learn dutch.
We hear you thinking: what is the basic qualification? In the Netherlands, it's a senior general secondary education (HAVO) or pre-university education (VWO) certificate. But can also be a secondary vocational education (MBO) qualification at level two or higher. In the UK these qualifications translate to GCSEs and some vocational qualifications. By law, you have to register any child of compulsory school age with a school. You can find out more about how to register your children from the school you want them to go to. The municipality in which you intend to live can also provide you with more information. Dutchify has a preferred schooling partner with New2NL. You can get a lot of information on their website or by contacting Dutchify.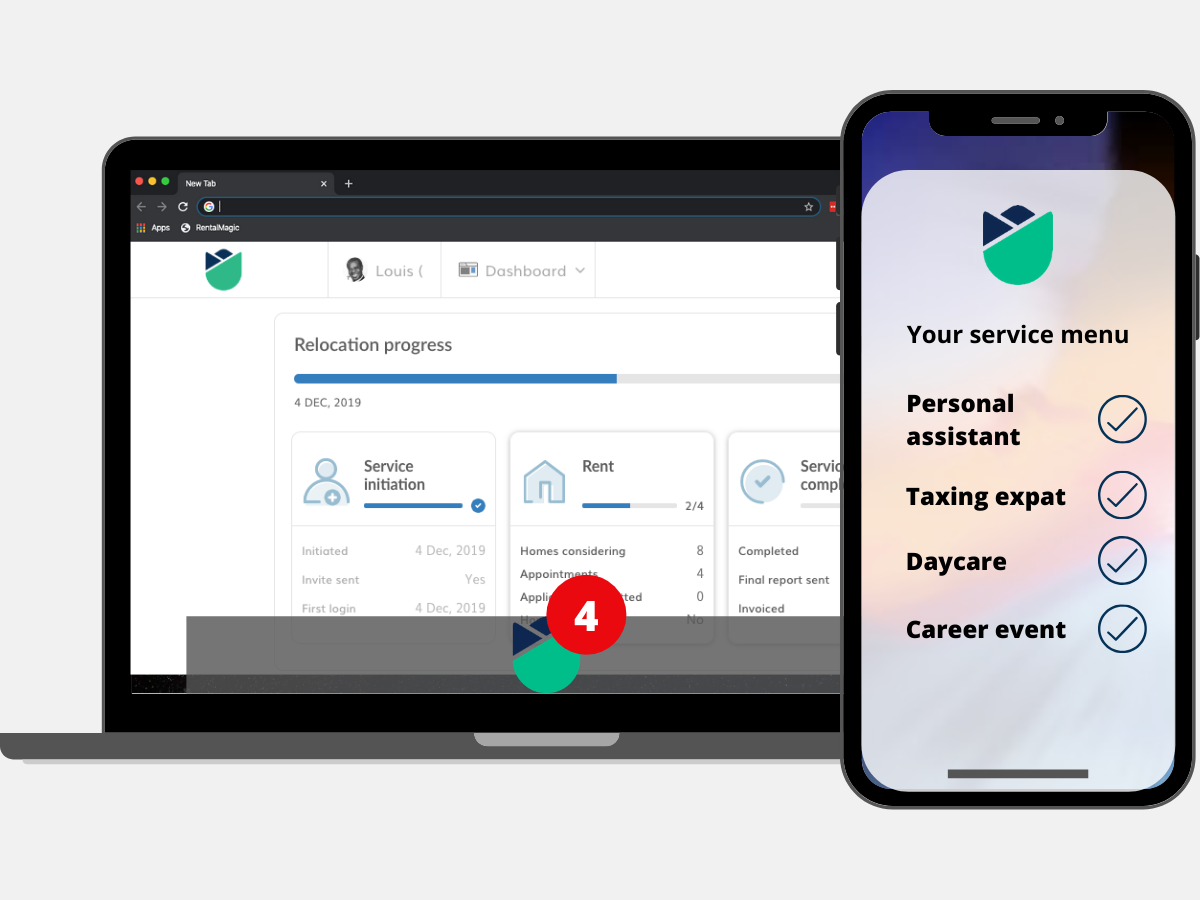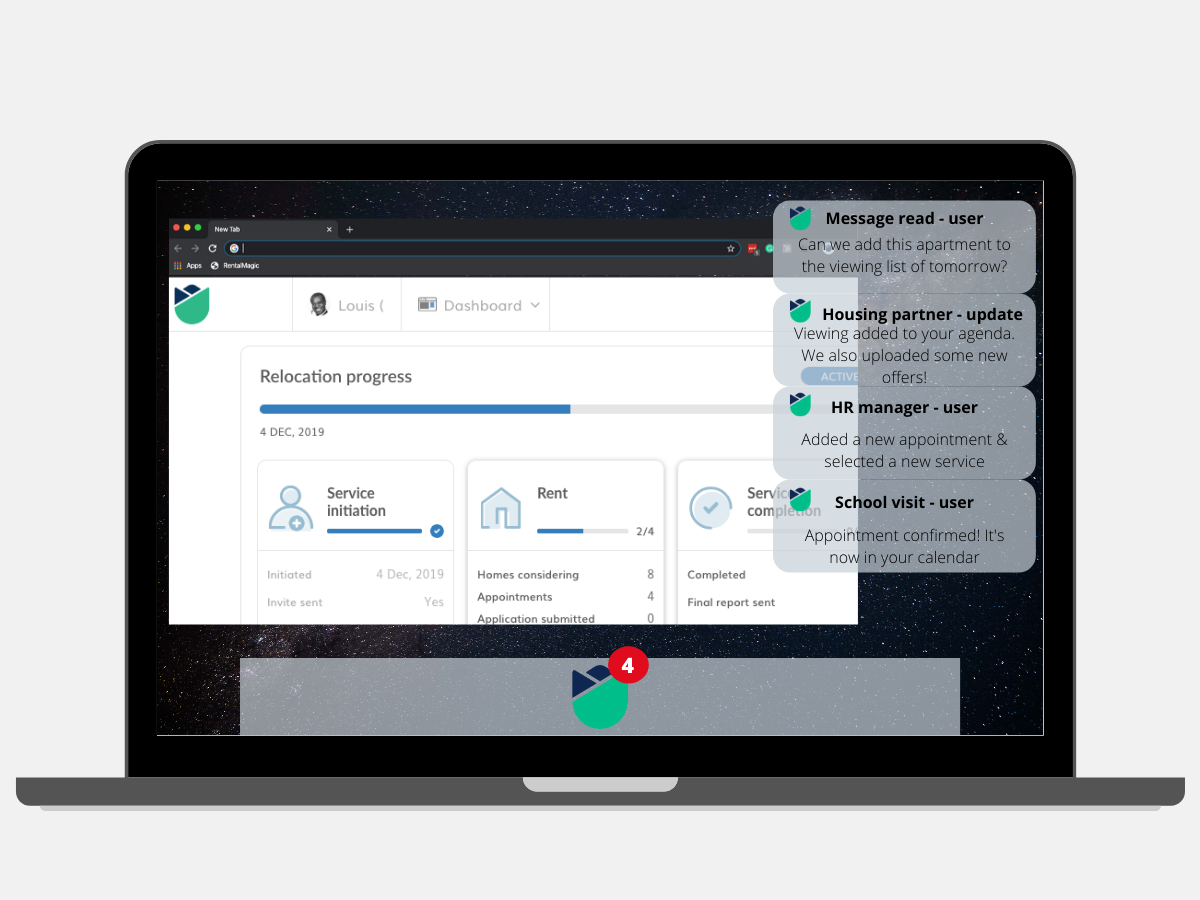 Finding accommodation is a complicated process 
There are three options you will encounter when trying to find a place to live. Furnished, unfurnished, and shell apartments. Furnished apartments are the most expensive, and the furniture provided varies. Some apartments carry the description fully furnished which even gives you bed sheets and towels. If you want to save a bit of money on rent you could choose an unfurnished apartment instead. Shell apartments are usually a bad choice, as they will be bare with sometimes a kitchen. As the name states, these apartments are shells, without even lighting or flooring. Renting one of these may save you money on the rent itself, but you'll spend a fortune on fitting out the apartment only increasing your cost of living. Dutchify has several platform partners that can help you choose a type of apartment. Even if the furniture is not there. 
The complications get even worse. Did you know all that apartment listings don't get checked by a government body on faulty advertisements? It's true, unfortunately. This is the result of an unregulated housing market in the Netherlands. This also results in at least eight or more different rental contracts used. So it becomes extra important to check everything you are signing. Another complication is the various websites in the Netherlands listing apartments. You might have already found some apartments? Did you know that apartment listings on any website only last for two weeks? Sometimes even shorter. This results in you getting a lot of rejections on apartments you select to view. Because the apartment is already rented out. You could solve this by using a friend or relative in the Netherlands. But Dutchify advises getting a professional with a strong network in real estate. Like one of our assistants! 
One of the most important things you need to do when you get to the Netherlands is register at an address. Without this, you will be unable to get your social services number. You will also not be able to open a bank account, or almost anything else. And not having a Dutch bank account will limit you to do business or live in the Netherlands. Registration at municipalities has a waiting list of four to eight weeks. It is important to start your move early to have a registration appointment to match your check-in date. 
Note: Don't get discouraged from all these complications. Dutchify offers both virtual and personal assistants to help you move. Making sure you sign the right contracts and get appointments on time. All the while saving you a lot of costs for traveling and staying in the Netherlands. 
Moving from the UK to The Netherlands checklist
Find a sponsor (family or employer).

Obtain permanent residence permit form.

Obtain and legalize documents.

Submit permanent residence permit to IND.

Pay the application fee.

Search for accommodation.

Apply for a Dutch bank account.

Ship personal belongings.

Depart the UK.

After arrival register at Town Hall

Make sure you complete these steps by December 31st, 2020!
Dutchify handles every step to make the process of living in The Netherlands as smooth as possible.
Get in touch with Dutchify
If you are considering leaving The United States to enjoy life in The Netherlands, book a time with one of our experts.  
Don't worry about learning Dutch or getting public transport from the Airport. Dutchify has everything you need to immigrate from the United States to The Netherlands.
Start talking to us today … for more information or to get started with your move …

TALK TO US