Moving to Rotterdam is cool
Is Rotterdam making a fair point of being the coolest city in The Netherlands? In this article, we will list the biggest reasons to relocate to Rotterdam in 2020. And we will also highlight some of the coolest features of the city you might not know. Oh and, In case you fall in love with the city, you know where to find the help you need.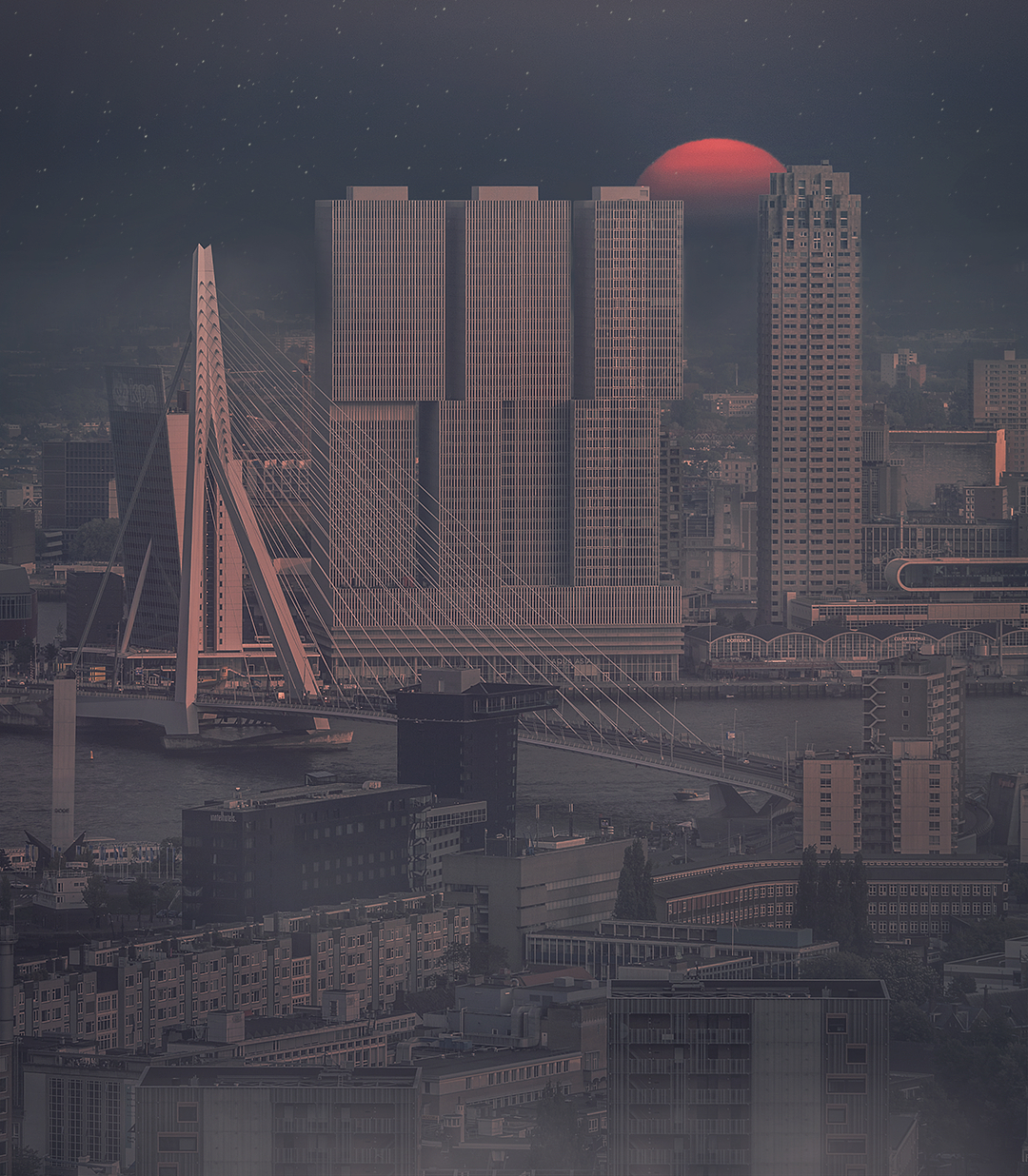 You can never get tired of the Rotterdam skyline.
Architecture and again ARCHITECTURE!
Some of you may know (it's always nice to get a free history lesson) that the city was destroyed during WW2. This caused the heart of the city to burn down to the ground. So why is the city so different in their architecture than any other Dutch city?
Well, instead of rebuilding the city, Rotterdam decided to design a completely new one. The government created an architectural playground on a city-wide scale. And the result shows. Rotterdam "The architectural capital of the Netherlands" is home to leading architectural firms such as OMA, Neutelings & Riedijk, and Erick van Egeraat. These names won't ring a bell for everyone, we know. But we can assure you that some of the buildings they have created will sound familiar. If you are searching for a job in Rotterdam as an English speaker, we just revealed a major spoiler! Sorry!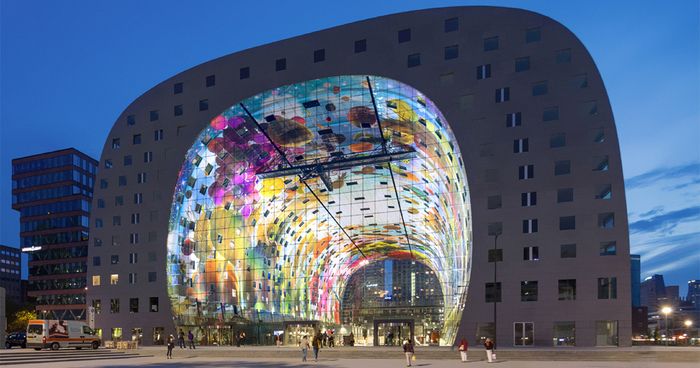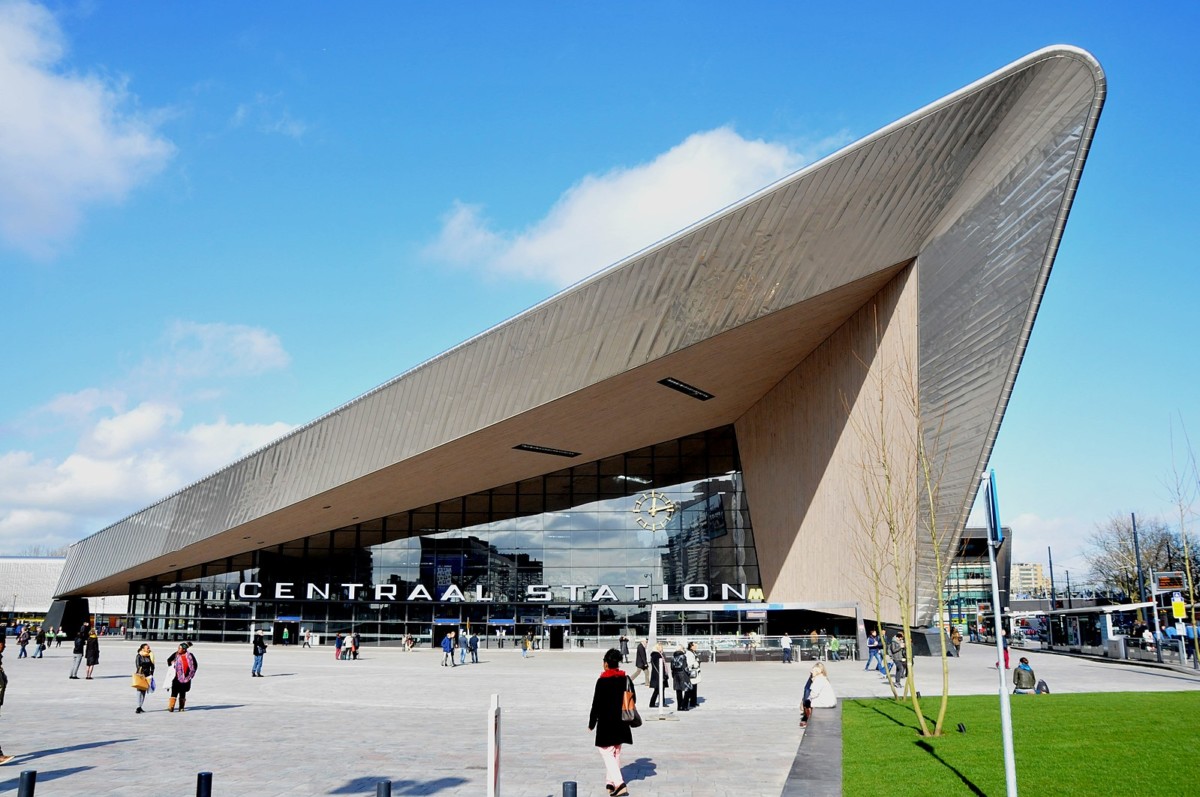 I'm curious what would be Michelangelo's thoughts on the Netherlands Sistine Chapel. This is a market and it's called De Markthal. I bet that you wouldn't use your phone to look at which transport you need to use if you have a reason to visit this great building, The Rotterdam Central Station.
Getting hired in Rotterdam!
If we look at Rotterdam from an employment perspective a couple of things stand out. We use our data from Indeed so be sure to look at their vacancies whilst you are reading to aid finding a job.
Rotterdam has around 1100 active vacancies for English speakers which is quite a lot. Most vacancies are Finance and Recruitment related and Michael Page hiring now. Vacancies in Architecture are also a thing in this cool city. So be sure to check some of the firms we listed earlier. Salaries are different for each position but a good estimate is an average of 60.000 euro a year before tax. Not bad. Especially because your employer can apply to the 30 % ruling for you. This means that for the next 5 years you will only pay 30 % tax on all the gross income you earn. Working in Rotterdam that is!
Your first dinner (or lunch) after work!
Food has always been one of the pillars that makes a city great. Or in this case cool! Especially if you combine it with great views while you enjoy your delicious meal. Rotterdam is a cultural mixing pot. So you are bound to find something from your own country here. But we are here to share a local legend. Have you heard of this great thing called Kapsalon? 
I will save you some time and translate the word for you, it means hairdresser, and yes, it is food. The myth is that a hairdresser named Nathaniel Gomes went to a shoarma place in Rotterdam. He requested his favorite ingredients (fries, shoarma meat, melted gouda cheese, salad, garlic sauce, and sambal) to be put layer by layer in a takeaway metal container. People started to take notice of this and it started growing in popularity. You can enjoy this masterpiece for lunch, dinner, or any other occasion. But the majority eat this meal after a night out partying. It's quite the kcal bomb though, so be careful not to overindulge.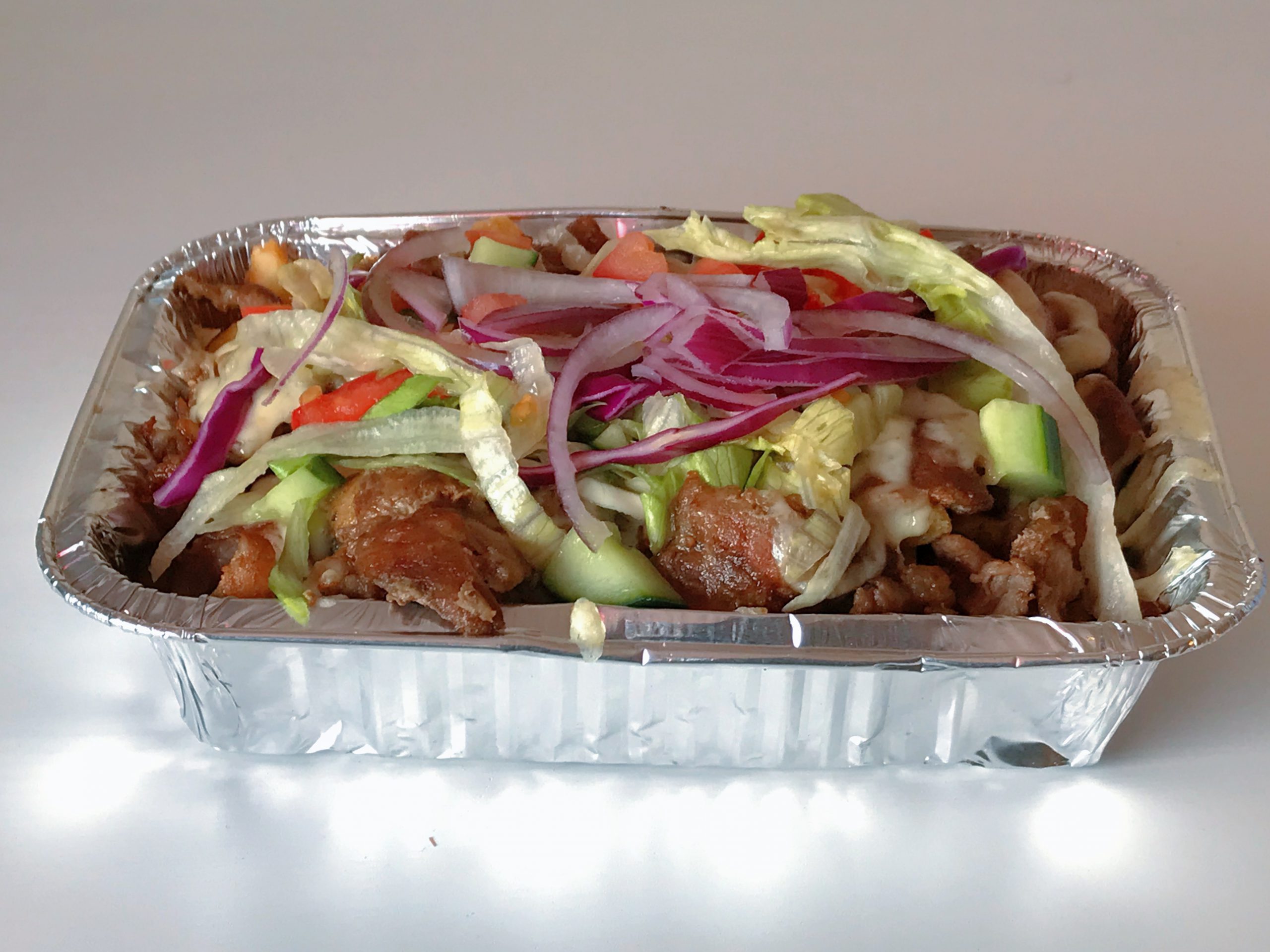 A standard Kapsalon. Doesn't it look delicious?
Housing in Rotterdam so you can catch some sleep!
Rotterdam has a whopping 49.1 percent of international people living in the city. Not every one of this percentage is an Expat btw. But it's safe to say that you will find soulmates in every part of the city with these high numbers. Let's face it, Rotterdam is a wonderful city to live in. And that is why it saw itself in the New York Times and Rough Guide's must-see city lists of 2014. And even Lonely Planet's 'Best Travel' list of cities to visit in 2016!
 Before we start digging into the neighborhoods, here is a little spoiler. Most newcomers get settled in the city or close to the center. Or they choose one of Rotterdam's scenic green suburbs. And the best is that we will list the best of these green suburbs for you!  The municipality's expat desk also offers newcomers advice for moving to Rotterdam.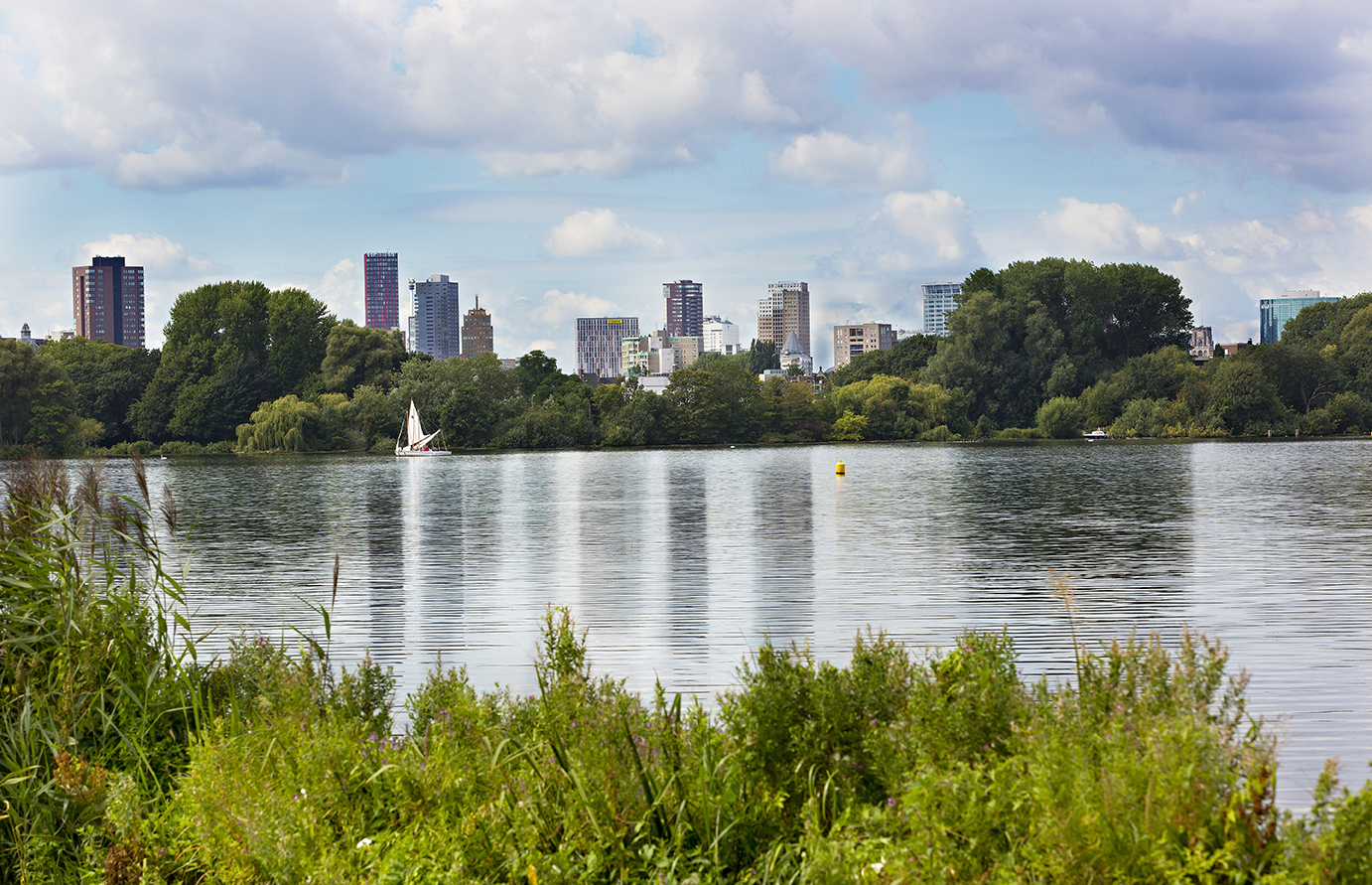 Kralingen
This district has a bit of everything. Old and new mix together in a with stately looking houses around the Park Rozenburg. And you can even find more affordable neighborhoods in Crooswijk. This neighborhood is full of bustling shops and restaurants. No wonder students from all around the world also choose Kralingen as their home base. It has a funky, cosmopolitan feel that's ideal for internationals.
 15 minutes biking from the city center, Kralingen is a great place to live. Kralingen – Crooswijk has all the amenities and shops you need as well as the large lake and woods! The Kralingse Plas and Bos provide the perfect location for walking and running. Feeling more active? We have heard you can even rollerskate there. Or go sailing! If you've got kids, they'll love living here too with its combination of city and nature. Our favorite hotspot? Walking off the Kapsalon by taking a stroll along the Maasboulevard. With its beautiful view over the river and the skyline of "Manhattan on the Maas"!
 If you rent a house in Kralingen you can expect a rental price of 700 euro to 1100 euros for a room or studio in 2020. If you are looking for a one-bedroom or larger property you are looking at 1300 to 2000 euro depending on size and luxury. Buying a property in this neighborhood can range from 200.000 euro to 1.5 million when we last checked with our partner network in June 2020.

Kop van Zuid – Manhattan aan de Maas
The Kop van Zuid ('Head of South') is the trendy extension of the city center on the southern bank of the Nieuw Maas. The world's most famous stars of architecture have erected buildings here. This includes Rotterdam's own Rem Koolhaas! His soaring De Rotterdam complex is the most striking edifice. The three linked towers are 150 meters high. Together they form a 'vertical city' of high-class flats you can actually live in! The building also has a 4-star hotel which is excellent for guests coming over. The building also has shops, restaurants, fitness, and parking facilities. Did we mention it was a big building?
 The Kop van Zuid in Rotterdam is a great area for executives wanting to get to work in the mornings early. Like London's Docklands, it's a mix of renovated old warehouses. Combined with smaller, newer housing and apartments. Enjoy peaceful walks along the Maas harbor or enjoy drinks at the fabulous Hotel New York.
 If you are looking to buy in the Kop van Zuid area you are looking at prices between 300.000 and 700.000 euro. This makes this Manhatten a lot more affordable than A BIG APPLE. Renting in Manhattan aan de Maas is more expensive. You are looking at an average of 1500 to 3500 euro in rent last we checked in our partner network in June 2020
Hilligersberg – Authentic center with lots of lakes
One of Rotterdam's jewels is Hillegersberg, a lush green suburb on the northeast of the city. And you can see Hillegersberg escaped wartime bombing. The old village center and elegant residential streets remain intact. Homes in Hillegersberg are popular for the Dutch and internationals alike. So expect some fierce competition. It is also home to several international schools like the American International School of Rotterdam. And don't forget the Japanese School of Rotterdam.
Hillegersberg is only 10 minutes from the city center by bus or tram or around 15 minutes by bike. And a few minutes on your bike brings you out of the city to meadows or the River Rotte. Which is a beautiful area to enjoy! Hillegersberg has two fair-sized lakes. So, if you like sailing in the summer and skating in the winter, this could be the right neighborhood for you. Let's hope for a strong winter!
If you are looking to buy in the Hilligersberg area you are looking at prices between 350.000 and 3.3 million euros. That's quite a big difference. Renting in Manhattan aan de Maas is more expensive. You are looking at an average of 1250 to 6500 euros in rent last we checked in our partner network in June 2020.
Cultural Diversity
Rotterdam is home to a whopping number of 174 nationalities. And this diverse number of ethnicities amounts to only 50% of the population being Dutch. So what are the reasons that attract such a big international and expat community?
You guessed it, the main reason is the port also called The Gateway to Europe. Rotterdam has the largest port in Europe and the 8th largest in the world. Many people come to the city to look for work. The metropolis is home to the HQ of companies like Unilever, Eneco, and Robeco.
Another reason is universities like Erasmus University, Codarts, and Willem de Kooning Academy. Attracting students from every part of the world. Last but not least is easy integration. Rotterdam has it's own China town, and it's huge. They have festivals celebrating all nationalities and ethnicities from all around the world. And almost everyone speaks English. Maybe you can share a Kapsalon with one of your newly made friends afterward?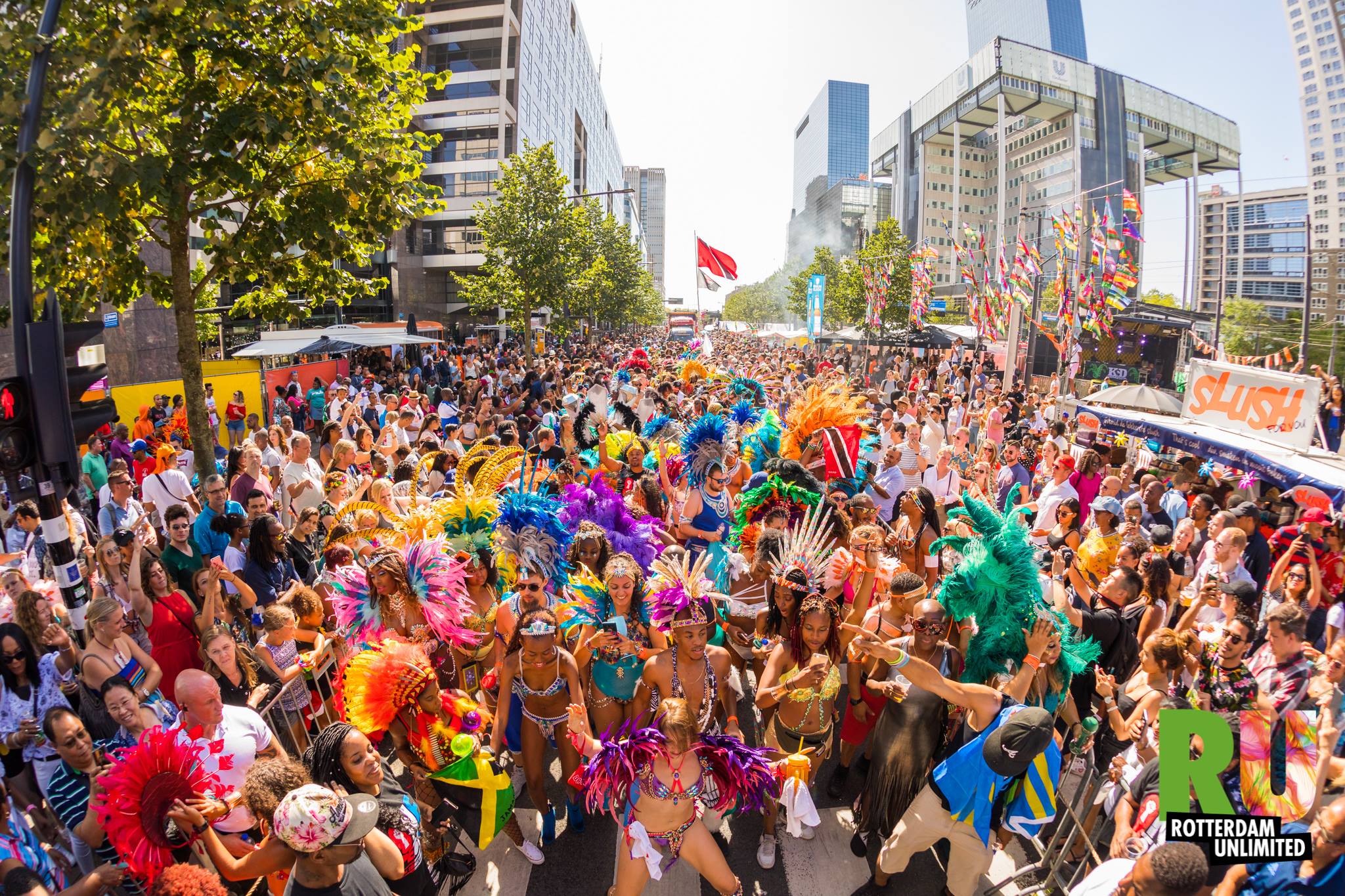 The popular and free to visit Zomercarnaval celebrates cultural diversity. We thank RU for the picture!

So, what do you think? Do you want to enjoy the great architecture on a daily basis? Is Rotterdam the city you want to live in? Do you want to start eating at the most pleasurable multicultural restaurants that also offer some great views or even try the hairdresser's favorite dish? Or maybe you want to start a new life here by applying for a job or enroll in one of the great universities that Rotterdam has to offer? We know what we would choose.

Get in touch.

Just remember that we at Dutchify are here to make all these wishes your reality. Just visit our website for more information or book a meeting right away so we can start working together as soon as possible since there are many more people from all around the world who have wishes similar to yours.